Satya Organic Eczema Relief
Soak Up Some Love Gift Set
Our Soak Up Some Love Gift Set includes two packets of our luxurious Oat Bath, a travel tin of Satya, and a Satya Stick for quick and easy application.
Soak and float in a beautiful blend of colloidal oatmeal and calendula petals for a nourishing, soothing self-care session with the Satya Oat Bath! Great for dry, sensitive and itchy skin. Learn more here. 
Satya's NEW stick is designed to glide over the most sensitive skin. Our same trusted skincare formula is now even easier to apply to your face, lips, and body. Learn more here.
Our travel tins are a great way to get dry skin relief -on the go. The cute little tin slips easily into your purse, pocket, car and more. These tins are 100% refillable and recyclable.
What is Satya?
More than a moisturizer, Satya provides a fragrance-free, natural anti-inflammatory for your stressed and irritated skin. Satya was first developed as a real clean alternative to steroid cream by a mom for her family.
Relieving skin inflammation, itching and irritation. Satya helps retain moisture, reduce flaking, cracking, roughness and restore suppleness to dry, damaged skin.
Ideal for: eczema, dermatitis, psoriasis, burns, rash, chafing, chapping, insect bites and wound healing.
Use all over body and face, including on lips and around eyes.
No added fragrance
Non-stinging
USDA certified organic
For sensitive skin
All prices in CAN dollars.
Free shipping on this bundle. (Canada Only)
US and International shipping available. Rate calculated on checkout.
Always a money-back guarantee.
Customer Reviews
09/03/2020
Alida E.
Canada
Great product!
Have only used the stick so far and it's going well. I like the easy application. Goes on thicker than other creams but i find it hydrating.
07/17/2020
Sabrina
Canada
Great products and awesome customer service
Having suffered from eczema all my life, I've used all kinds of creams and ointments to try to find relief, from steroid creams to other all-natural products. The Satya stick is brilliant as it allows me to apply the product without getting my hands all greasy, and it's soothing to apply to skin that's cracked and itchy and sore. I found the oatmeal bath a bit tricky to use as there are loads of calendula petals floating around - the packaging does warn you to strain out the petals before draining the tub but this proved a bit challenging. I might need to put them into a mesh bag or something next time - possibly an oversized biodegradable tea bag? It was lovely and calming though, so I would still recommend it to others. There was a bit of a mix-up with my order but Patrice and her team were gracious and quick to remedy the issue, which I really appreciated. I'm happy to find a product that not only works, but is organic, local, and Indigenous-woman owned.
07/10/2020
Monicadejesus F.
United States
Beautiful, Clean, and Natural
I thoroughly enjoy using my Satya stick daily. I've been using it for a few weeks now and I am so happy with my purchase. I will likely go back and get a refill pouch or another jar. I have some red spots on my face that tend to flare up in the heat, and dry skin around my eyes. Since using the Satya stick, I noticed a decrease in the visible red spots (one side is almost cleared all the way). I was using the typical OTC eczema creams before, (I threw them out after the first week). This works; it's natural, clean, and gentle.
07/07/2020
Donna S.
Canada
Relief
I had an oven burn. As I removed a sheet pan cooking at 400* F I pressed the pan against my bicep and I knew I was in trouble. A trip to the doctor for a prescription cream did not bring relief. The pain and infection grew. I was so fortunate to discover Satya and I ordered the roll on tube. It arrived promptly and my truthful testimony is that I felt almost immediate relief. After 10 days of frequent applications I started to scab and the layers of healed shedding was constant. I have more healing to go but I predict the final scarring will be minimal thanks to Patrice's beautiful formula. I also had a heavy amount of eczema across my eyebrows running into my scalp. This too healed quickly. A few scalp scabs still healing but zero evidence of eczema in my eyebrow area. This product has proved to be of priceless value. Huge appreciation to it's inventor. Thank you Patrice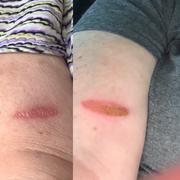 05/18/2020
Brenda G.
Canada
My son's skin is cured
My 3 month old developed eczema and it become bad quickly all over his tummy and limbs and cheeks. It was patchy, scaly, itchy and we were very worried. Literally, 1 week of this treatment (Satya bath and ointments/cream) and his skin was baby soft all over again. We could not believe it. We put on the cream twice a day (morning and evening) and it's honestly been a godsend! I've been recommending it to all my friends with kids. So gentle on his skin too! I'm in love. We ran out and bought it from the closest health food store in our area again! Highly recommend.
05/19/2020
Satya Organic Eczema Relief
Thank you so much for your lovely review! We're so happy for you and your son! Please keep us posted, and send us a photo of his newfound smile if you can via our social media accounts @satyaorganic!