30ml
Soothe your eczema in a snap with Satya's dermatologist-tested eczema balm. Our non-stinging and fragrance-free formula in a refillable stick format is the perfect eczema relief solution for all ages.
This USDA-certified organic eczema stick is packed with whole botanical ingredients that provide the ultimate comfort and confidence you need. Satya's eczema ointment is designed as an effective eczema treatment that's free from steroids, fragrance, gluten, or parabens.
Before you consider steroids, give Satya's eczema balm a try first. It's hypoallergenic and dermatologist-tested, making it a safe and family-friendly choice for eczema care. Trust in the power of Satya's eczema cream and embrace a natural, organic approach to your skin relief needs.
Perfect for your car, backpack, or gym bag, the Eczema Stick delivers the eczema relief you need when you're on the go! In one swipe, glide the stick smoothly over your face, lips, and body for instant relief. Conveniently packaged for travel.
Use it as much as you want!
Calendula* (Calendula officinalis, flower), 5.5%, Gluten-Free Colloidal Oatmeal* (Avena sativa, seed) 1%. Non-Medical Ingredients: Sweet Almond Oil*, Jojoba* Beeswax* *USDA certified organic ingredients
Heavy-duty plastics, like what we use for the Satya Stick, are durable and refillable, so you can keep reusing them for years!
We believe steroid-free and alcohol-free eczema solutions should be accessible to everyone. Don't love your Satya? Satya promises a 100% money-back guarantee if you are not satisfied with our product.
The Easy Glide Stick is simple and easy to use (hence, the name!). All you need to do is remove the cap, rub it onto the affected area, and say hello to happy skin!
Absolutely! Satya is safe to use anywhere on the body, including the face and the hair/scalp area.
Yes! We have received the Pediatrician Approved seal, which means all Satya products are safe for children over the age of 6 months to use.
No! Our formula is made of natural and organic ingredients carefully selected to ensure that it's gentle enough for sensitive skin and will not sting when applied.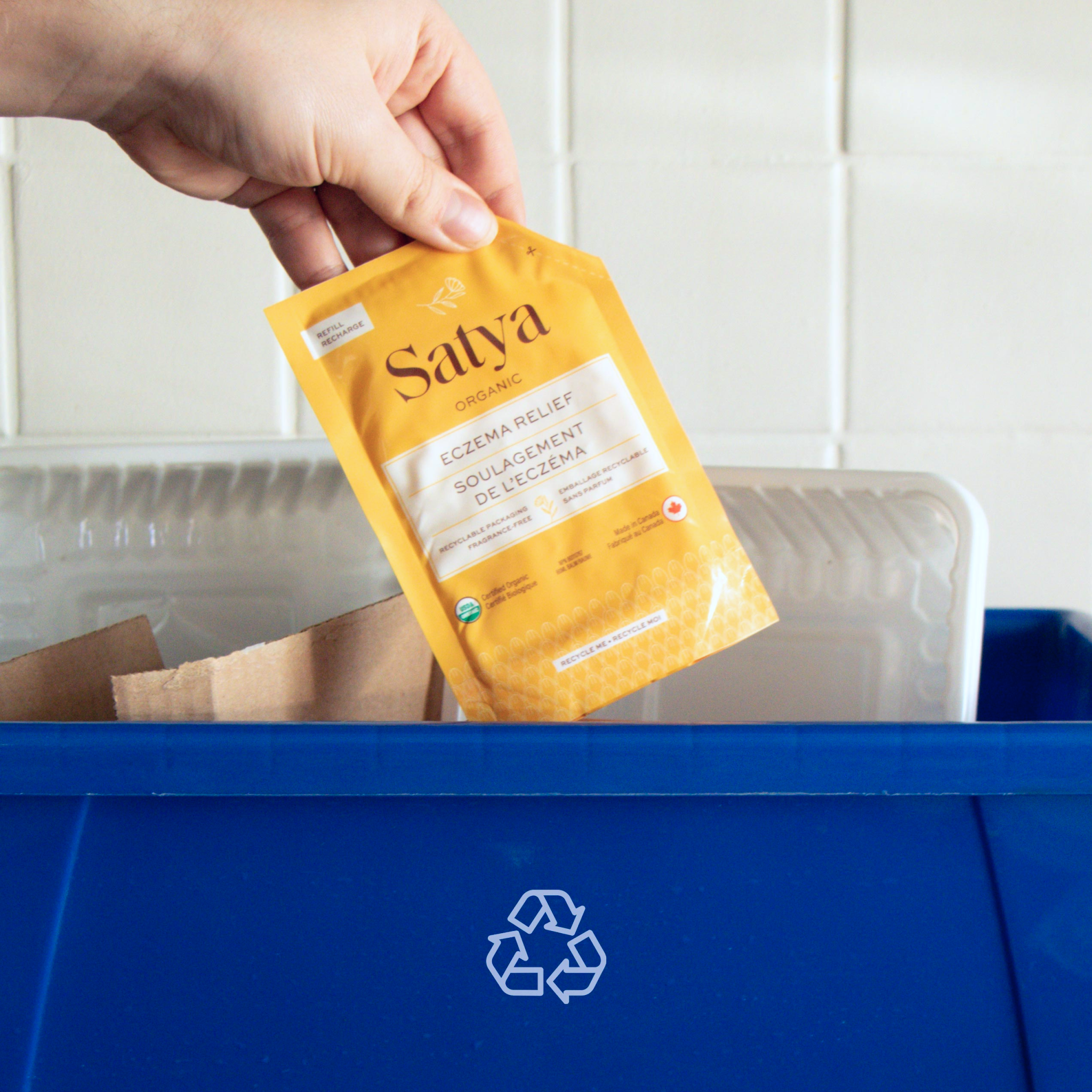 Refill The Love
Refill any Satya product with our Refill Pouch in 3 easy steps:
1. Empty the pouch contents into a heat-proof container.
2. Melt in oven or microwave. The melting is the magic!
3. Pour into your Satya container. If you're refilling the Satya Stick, twist all the way down and pour in from the top.
4. Let cool.
Satya's Packaging
All our packaging is recyclable or refillable. Our paper packaging is made from recycled materials and printed with veggie and soy-based inks.We recognize the impact producing and distributing a product has on our planet, and we are proud to be a 100% carbon neutral and plastic neutral company.Your purchase helps combat ocean plastic and world poverty through The Plastic Bank.
DISCOVER SATYA