Satya Organic Eczema Relief
Satya Stick
30 ml
NEW Satya, with a twist! 

Satya's NEW stick is designed to glide over the most dry and sensitive skin–on the go. Our same, trusted skin care formula is now even easier to apply to your face, lips, and body.
 
Save money and the planet 
Since the stick is lighter than our Satya jar, we're lowering our carbon footprint. And thanks to a special partnership with our friends at Plastic Bank, every purchase of the new Satya stick helps pull plastic from global waterways while fighting poverty at the same time. Read more about our #plasticneutral partnership, here.
 
Just like every member of the Satya family, the stick is 100% refillable with our Compostable Refill Pouch. Simply KEEP THE DOME when you first open your stick to use as a mould. 
Read more about how to refill your stick here. 

What is Satya? 
More than a moisturizer, Satya provides a fragrance-free, natural anti-inflammatory for your stressed and irritated skin. Satya was first developed as a real clean alternative to steroid cream by a mom for her family.  
 
Relieving skin inflammation, itching and irritation. Satya helps retain moisture, reduce flaking, cracking, roughness and restore suppleness to dry, damaged skin.  
Ideal for: eczema, dermatitis, psoriasis, burns, rash, chafing, chapping, insect bites and wound healing. 
Use all over body and face, including on lips and around eyes. 
No added fragrance

 

Non-stinging 

 

USDA certified organic

 

For sensitive skin

 
$12 Flat rate shipping in Canada. All prices in CAN dollars.
FREE shipping on all orders over $45 (Canada only)
US and International shipping available. Rate calculated on checkout.
Always a money-back guarantee.
Customer Reviews
07/27/2020
Leslie G.
United States
Amazing Product!
I've never had eczema before and at 33 had my 1st experience. I received steroids pills and creams and battled out break after outbreak for 8 weeks until I ordered this product! Within 1 day my skin cleared up and stayed clear, something the steroids couldn't do. I keep one in my purse and bathroom. I can't EXPRESS enough the value of this product. I have since shared this with my family that have eczema and my dad who has Parkinson's and is helping his skin as he is having issues with his skin with medication. My family have become customers as well and truly the most amazing product.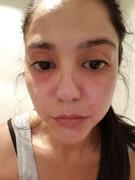 06/24/2020
Heather A.
United Kingdom
Finally something that works!
Finally something that works on my dry itchy skin! Thank you Satya!
06/13/2020
Faye A.
Canada
Satya Stick
The Satya stick is perfect! I suffer from eczema primarily on my hands. It's an hygienic, fast and easy way to use this amazing natural remedy. I also carry one in my purse for easy application when away from home.
06/11/2020
Jennfer S.
Canada
Repeat User
I love this product - I keep buying more as I have not found anything else as good nor anything else that makes me feel good about my purchase from an environmental stance. Thank you for making such a good product!
06/06/2020
Jessica J.
Canada
Made my skin issue worse
I have psoriasis. The description of the product says in addition to helping with eczema, it also helps with psoriasis. I used it for 2 weeks straight and it made it 10 times worse. I do NOT recommend for use on psoriasis.
06/07/2020
Satya Organic Eczema Relief
Hi Jessica, thank you so much for taking the time to review! Please know we have a 100% money-back guarantee. No one should have to pay for a product that doesn't work for them! We have many people in our community with psoriasis who benefit from using Satya, but no remedy is perfect for everyone. It may be that you're allergic to one of the 5 ingredients, or it's just not the right chemistry for your skin. Either way, we'll be in touch about a refund! :)